A9 MINI WIFI CAMERA
Mini Camera with Night Vision and Motion Detection A9 – 5MP, 1080p, AVI (H.264)
The A9 mini camera is a simple solution for video surveillance in your home or office.
Thanks to the compact housing and magnetic mounting system, it stays concealed and out of your way while the 150-degree lens captures a wide-angle view of the area. Upon that, it connects to your smartphone via the Internet for convenient real-time monitoring and remote control.
Protect your family safety anytime, anywhere.
With a wide viewing angle of 90 degrees, no details are missed.
Universal magnetism, easy to fix.
Enhance night vision ability to see more clearly in the dark.
Anyone moving in the camera can be captured..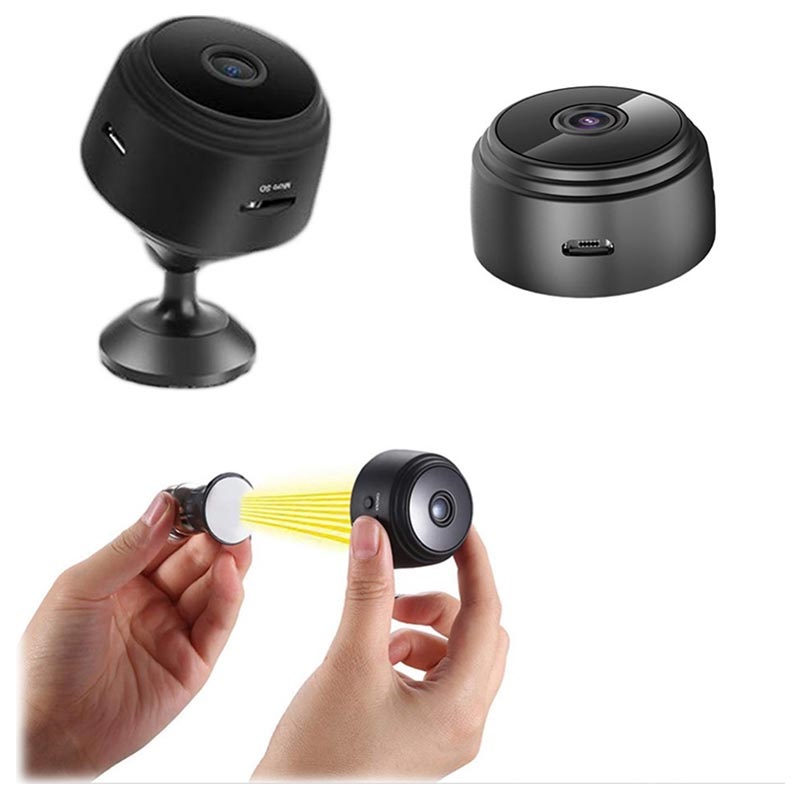 Features:
– Compact 5MP wireless security camera
– Wide viewing angle and crisp 1080p video
– Features night vision and motion detection
– Supports MicroSD cards up to 128GB (NOT included)
– Continuous recording in Recycle Record mode
– Practical magnetic mounting system
Specifications:
– Sensor: 5MP
– Video resolution: 1080p
– Vid format: AVI (H.264)
– Video framerate: 25fps
– Motion detection range: 6m
– Minimal illumination: 1lux
– Operating temperature: -10-60 degrees Celsius
– Supported memory card: MicroSD up to 128GB
– Supported OS: Windows, Max, iOS, Android


Note: The camera needs a WiFi connection in order to work. The app is used only for real-time monitoring, settings, and other camera controls.
Package includes:
– Camera
– Cables
– Mount
– User manual
How To Use:
1.Download the APP(iWFCam) in APP Store or Google Play.
2.Power on/off: lightly press the button to power on, long press the button for 3 seconds to power off.
3.Reset: Long press the button for 6 seconds to reset the camera.
4.Find and connect the camera wifi hotspot in your phone WLAN setting. Or, scan the camera QR Code and connect your home 2.4 GHz wifi in the App device.
5.If you want to save the video, format the micro SD card before using it.
A9 MINI WIFI CAMERA